ANN Integration is a Halmstad-based company owned by Anders Nilsson and works based on the motto "Help From Escape to the Future".
The business is conducted with personal commitment in combination with efficient information gathering.
The aim is to help refugees, new arrivals and other target groups who today are far from the labor market to find internships and jobs and to secure their residence.
ANN Integration is owned by Anders Nilsson and based in Halmstad.
We are working after the motto "Help from Escape to a new Future" The company is driven by personal engagement in combination with effective gathering of information.
The target is to help immigrants, migrants and other groups of people that are far from the working society to find practice place, jobs and to get a place to live in the future.
ANN Integration
Entrance road 7
30291 Halmstad
Mobile: 0706061744
Email: anders.n.halmstad@gmail.com
About
I am a Smålander who emigrated to Halmstad in the mid-eighties and I have not regretted it since. Only I can come back to Småland and Bolmen at regular intervals.
My interest in art was aroused early on because my mother was a textile artist and she filled our home with the most amazing creations.
I have painted from time to time throughout my life, but my painting started properly when I spent a year at Löftadalen Folk High School "Creative Focus" with, among others, Gunnel Hillerström Bengtsson as a teacher and mentor.
My painting is an abstract process where the painting is not finished until it is framed and you can look at it from a distance and only then does it get its name. I have developed a technology that I call "Flooded watercolor" where the water and pigments can do most of the work, which leads to many different and interesting results and at least as many failures.
Check out my art on my website gallerigenesis.se
Previous exhibitions
2010 Separate exhibition Genesis at KP Art Halmstad
2011 Collective exhibition Albany International Halmstad
2013/2024 education at "Kreativt Focus" Löftadalen Folkhögsola
2011 Separate exhibition Etteplan AB Halmstad
2014 Collective exhibition Rubeo F14 Halmstad
2014 Artwalk together with Rubeo along Nissan
2014 Collective exhibition Viltsnok Gallery 70
2014 Collective exhibition Rubeo at Kulturparadiset
2014 Collective exhibition Löftadalen Folk High School "Creative Focus"
2014 Permanent exhibition Hangar II / Gallery 70
2014 Separate exhibition Clarion Choice Hotel Norre Park
2014 Represented at Region Halland Löftadalens Folkhögskola
2014 Collective exhibition Salon des Refuse's Christmas market
2014 Collective exhibition "Backs" Gallery 70
2015 Collective exhibition together with Modesty Sofronenkoff Gallery 70
2015 Represented at the Cultural Administration Halmstad
2015 Collective exhibition Kvarnen in Kornhult
2015 Represented in Norway private collection
2015 Collective exhibition Viltsnok Gallery 70 Halamstad
2015 Artwalk together with Rubeo along Nissan Halmstad
2016 Separate exhibition Gallery Oskar Oskarsström
2016 Collective exhibition Viltsnok Gallery 70 Halmstad
2016 Theme exhibition "Air" Gallery 70 Halmstad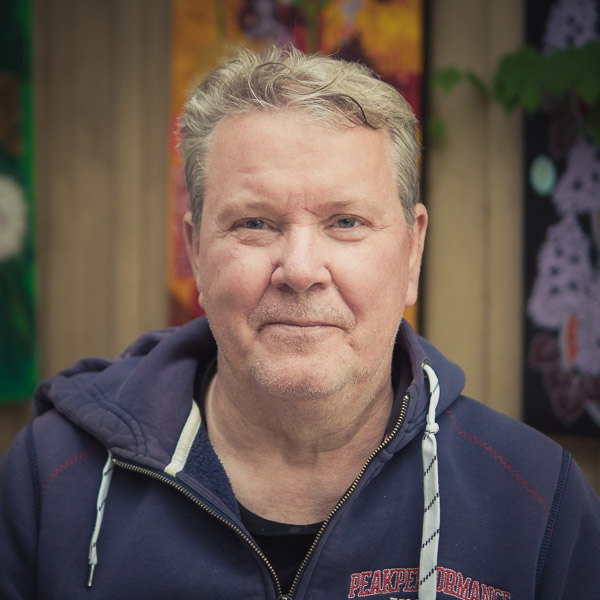 Contact
Anders Nilsson
Other links
The Dramalogerna